Accessibility Information for The Hesketh Crescent Holiday Apartment in Torquay
Introduction to access information
It is an absolute joy to be able to share this beautiful part of England with others and see the pleasure it gives people who have discovered it for the first time or else have returned again and again to a much loved destination.
The information that follows is designed to help potential guests decide whether our Hesketh Crescent Apartment is suitable as a place to stay. Whilst we accept that for some guests the answer maybe "no" we are nevertheless committed to increasingly making the Hesketh Crescent Apartment as accessible to as many people as possible.
If you have any queries please contact us and we will be delighted to assist.
Telephone: 01803 292958
Email: [email protected]
Mobile / Text: 0791 905 1066
Address: 4a Hesketh Crescent, Torquay TQ1 2LJ
Part I The Building
The Hesketh Crescent Apartment is located in a building which was originally a single private dwelling. It was part of the Hesketh Crescent that was built in the 1800's.
Currently, the building is arranged as individual apartments. The Hesketh Crescent Apartment is located at the rear of the building and occupies part of the 1st and 2nd floor. There are no elevators in the building. The apartment has one bedroom, an open plan living/dining room, a kitchen and a bathroom.
Getting to the Apartment:
Torquay's mainline railway station is approx 1 mile away. Most train journeys will involve a change at either Exeter or Newton Abbot although there are a limited number of direct trains each day. There is a taxi rank at the station which has taxis available whilst train services operate. Most services are operated by First Great Western.
The coach station is approx 0.75 miles away. There are numerous coach services from a number of different places. Services are largely operated by National Express. Taxis are available from the coach station.
The nearest bus stop is less than 200 yards away on Meadfoot Sea Road. Frequent bus services are available & timetables can be provided upon request. There is an excellent high frequency bus service within our Bay area and bus services link up to other towns such as Totnes, Exeter and Plymouth. Services are generally operated by Stagecoach.
Local taxis are plentiful. Special access taxis can also be arranged. Our taxi drivers are happy to meet the needs of passenger with special requirements and even short journeys are not a problem.
Arrival and parking facilities:
The allocated car parking space for the apartment is located at the rear of the Crescent. There are also disabled parking bays at the front of the Crescent.
The allocated car parking area has a tarmac surface and parking bays are marked by white lines. There are individual names for each parking bay. The parking bay for this apartment is named as "The Regency". This area is lit at night. This parking area can be found by turning left just before the main gates to the crescent.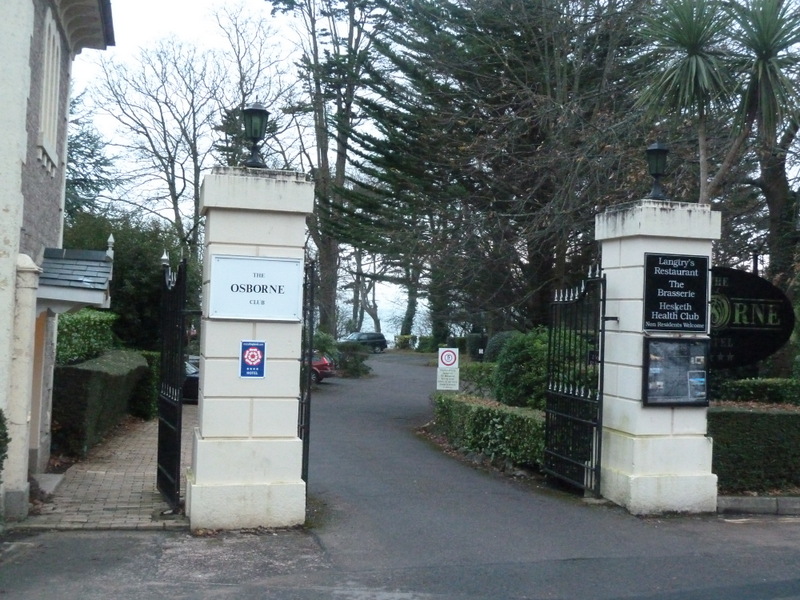 From the car park there is a footpath that cuts down the side of the Crescent and leads guests to the front of the Crescent. There are a number of steps and the paving is uneven. There is some lighting but it is not well lit at night. Alternatively, guests can go back to the main entrance to the car park and enter the crescent through the main gates. The surface is tarmac and there are no steps.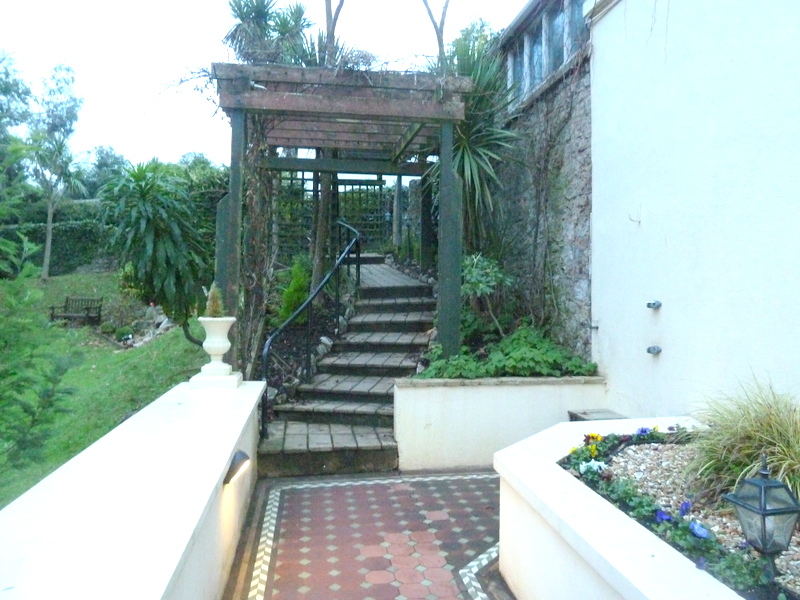 We endeavour to meet all guests on arrival and assistance can be given to guests with their luggage.
There is a full guest information folder in the apartment. We are happy to make specific arrangements to meet guests and assist with luggage. We will also do this on departure where possible.
Guests are able to park at the front of the crescent to unload luggage etc.
Main entrance and public hallways:
Access to the building is via the front door which has a step up to it as you approach it. This step is approximately 14cm high There are then 2 steps up as you go through the main front door. These are 17cm high and 19cm high respectively. The width of these steps is approximately 110cm. There is a light over this area which is on a timer. The main front door is the original heavy door and is 110cm wide. One key is required to unlock the door.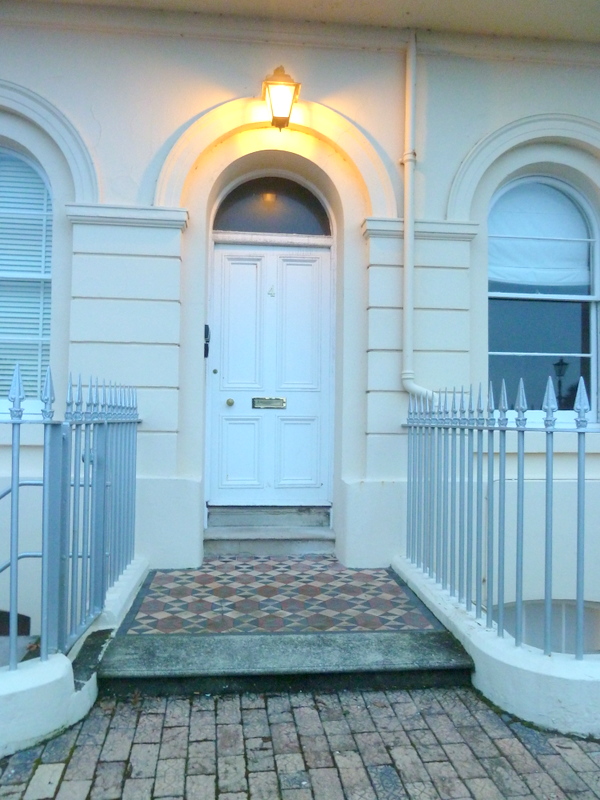 Once inside the front door there is an outer lobby area and then a doorway through to the main hall. This doorway is 96cm wide. The hallways are all carpeted as are the stairs. There is a light switch immediately inside the front door to the left. This illuminates all the hallways and stairs and is timed to stay on for approximately four minutes.
There are 14 stairs to the first floor landing. The width of the stairs is 96cm and each stair rises by 16cm. The stairs are carpeted There is a wooden handrail to the left.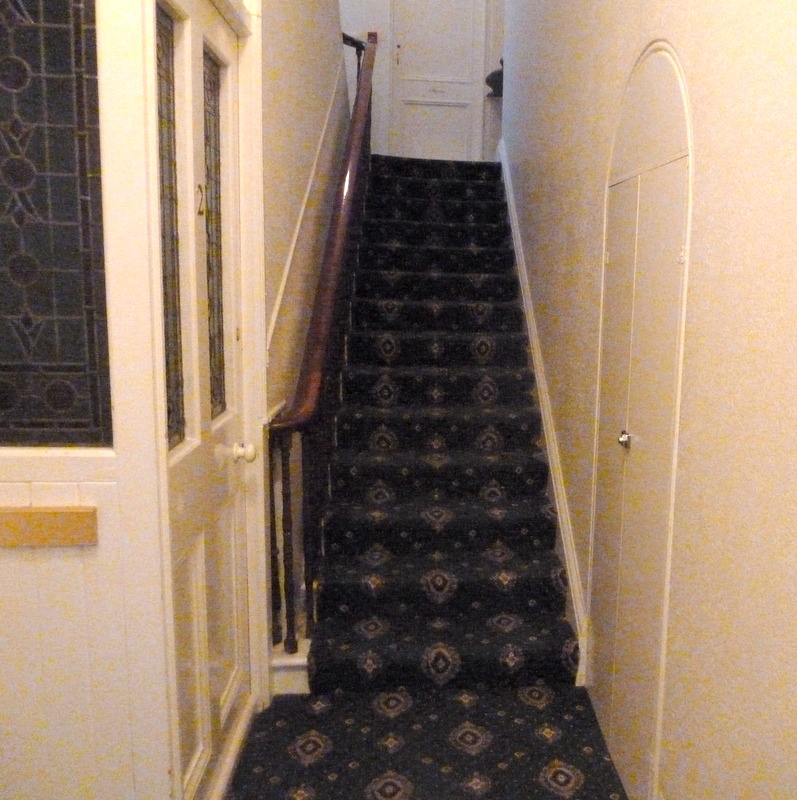 There is then an outer door for the apartment. This is 82cm wide and leads to a communal lobby (shared with another apartment). This door is opened with one key.
This lobby has a sensor light and a laminate floor. On the left there is the door to the apartment. This door is 72cm wide and leads into the apartment. This door is opened by one key.
The Apartment:
Once in the apartment there is a door immediately to the left. This is the bathroom. The door way is 66cm wide. There are three downlight spots in the bathroom. There is a bath with a shower over, a washbasin and a toilet. The floor is marble tile
There are then a set of stairs that lead to the second floor. These consist of three stairs that perform a quarter turn and a further 12 stairs. These stairs are carpeted. The width of the stairs is 95cm and each stair rises approximately 17cm. There is a wooden handrail covering all the atairs including the quarter turn. There are three sets of spot lights covering this area.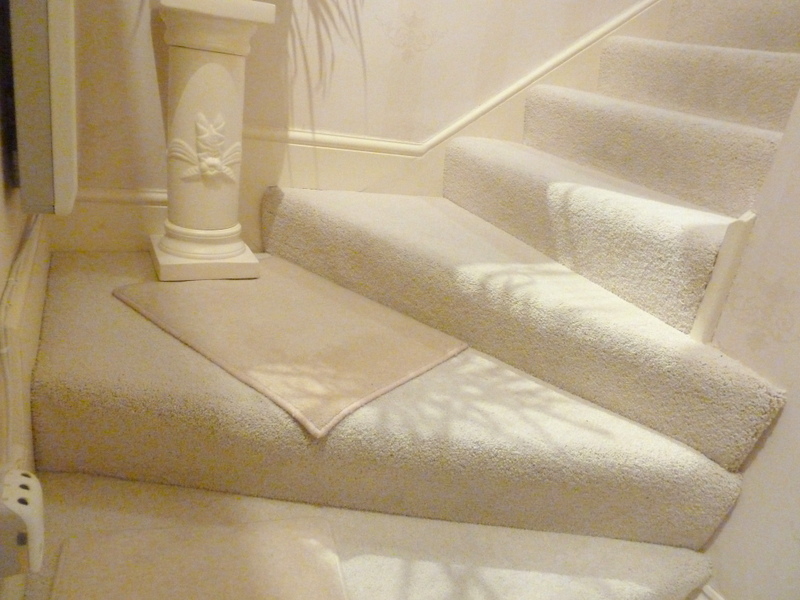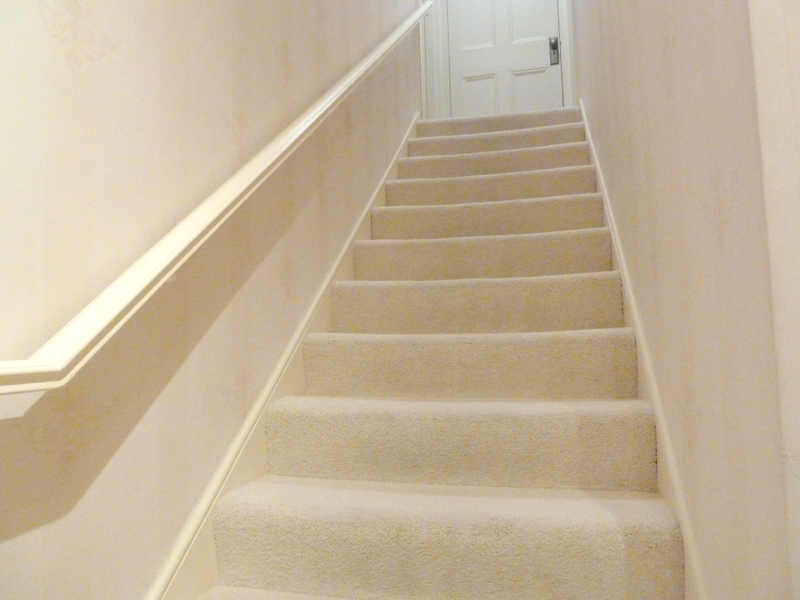 On the second floor there is a bedroom to the right. The door way is 84cm wide. To the left is the main living area and the door width is also 84cm wide. The archway through to the kitchen is 73cm wide. The bedroom and living area are carpeted. The kitchen is tiled. There is chandelier lighting in the living area and bedroom as well as additional occasional lamps. The kitchen has spotlights as well as under cabinet lighting.
There is a TV in the bedroom and in the living room. All TVs provided have teletext and subtitles. There is free wifi.
There is a landline telephone that receives incoming calls and allows 999 outgoing calls.
The Hesketh Crescent Apartment is totally non smoking.
The apartment owners can be contacted 24 hours per day.
The check in process is normally carried out in the lounge area of the apartment. Seating is available here and check in can be completed whilst sitting down.
The apartment has central heating on the second floor. The bathroom has an electric towel rail heater and the hallway has a wall mounted heater which operates on a timer. Assistance can be given in setting the heating to suit the requirements of the guests. An electric fan is located in the wardrobe in the bedroom.
Part II Support we are able to provide guests with specific needs.
How we can support Guests with restricted mobility:
We are happy to assist with luggage on arrival and departure.
We can obtain specialist equipment such as wheel chairs and mobility aids for the duration of a guest's stay.
We can advise guests on suitable places to visit and places to eat.
We have special door hangers that can be used at night to alert fire and rescue personnel of special requirements in the event of an evacuation of the building.
For guests with visual impairments:
We have good colour contrasting in the fixtures and fittings of our rooms.
We have good lighting.
We can offer large print copies of our own materials.
For guests with a hearing impairment:
We have a portable hearing loop which guests can request to use in the apartment.
We ensure that we speak clearly to help guests lip read.
We can direct the guest to written information
We have teletext and subtitles on our TVs
We have procedures in the event of evacuation – a door hanger.
For guests with families:
As this is a one bedroom apartment we can only accommodate a maximum of two guests. However, we have other apartments at Bedford House and The Muntham Apartments that can accommodate up to 4 or 5 guests.
For guests with bronchitis and breathing difficulties:
We can change bedding to Non feather bedding.
We have High standards of cleaning in the rooms and have regular scheduled deep cleans.
We do not permit pets in the apartment.
For guests with food allergies or special diets:
We are happy to make provision for guests with allergies or special diets and can arrange for food to be delivered in advance of our guests' arrival.
For guests with dogs for assistance.
For guests with other specific requirements:
We are able to make some adaptations to rooms to accommodate special equipment. For example we have adapted rooms to accommodate portable dialysis units and have stored fluid for guests in advance of arrival.
Check Rates and Availability at The Hesketh Crescent Apartment
To check availability and prices, please use the calendar below. You will also be able to book with our secure booking system using Sage Pay.Don't forget that if you book direct you will get rates up to 20% cheaper than if you book with an online booking agent like Booking.com or Hotels.com.
Your widget will appear here.